DISCO DEMOLITION....
...is sort of the opposite of yoga.
It happened 30 years ago today, when a young DJ named
Steve Dahl
invited his listeners - aka the Insane Coho Lips anti-disco army - to attend a White Sox doubleheader at Comiskey Park for 98 cents and a disco album - which he would blew up on center field between games.
Some 80,000 teenagers showed up, but the stadium only fit 50,000. Many of those who couldn't get in brought ladders, and scaled the walls.
After Dahl blew up the records, the fans stormed the field and the Sox were forced to forfeit the second game.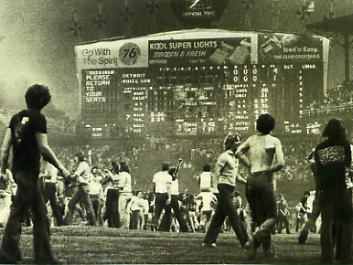 This video contains some priceless local news coverage (highlights include a young Bill Curtis mispronouncing the word "melee," an angry local resident popping a crunchy snack into his mouth mid-interview, footage of long-dead newsmen Gene Siskel and Johnny Morris, and a petulent Steve Dahl wearing unbelievably gigantic eyeglasses):
Dahl's Q&A with himself
about DD in today's
Tribune
is entertaining, plus there's video.
This TimeOut piece
has some bite to it.
This Reader article
isn't half as good as the reader comments, posted at the bottom.
It's about a free exhibit of DD photos by Diane Alexander White taking place this Sunday from 5-8 PM at the Music Garage, 347 N. Loomis (312-997-1972). It'll feature
music by her kids' band, White Mystery.

Coho!