MY NEW FILM REVIEW: STRONGMAN
A mini-revival of my old j-career, in this week's TimeOut Chicago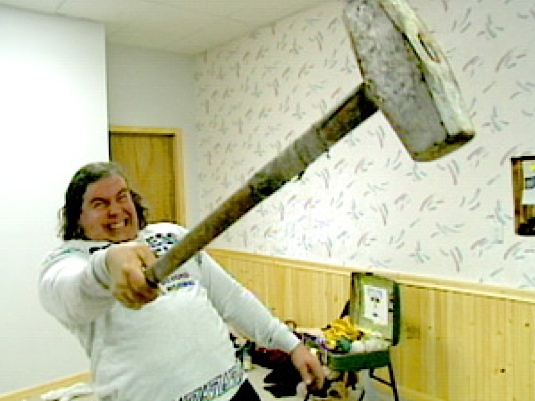 Film review
Strongman
By Cara Jepsen

Dir. Zachary Levy. 2009. N/R. 113mins. Documentary.

"I can bend bars and break chains, but you can't bend people," says Stanley "Stanless Steel" Pleskun near the end of this intimate portrait of a self-taught, working-class-raised strongman searching for an audience. Pleskun, who's billed as the Strongest Man in the World at Bending Steel and Metal, is determined to use clean living and positive thinking to transcend his dysfunctional background; after all, his perseverance has made him the only man in the world able to bend a penny with his bare hands. First-time director Levy spent ten years making this fly-on-the-wall documentary. He uses no interviews, narration or voiceover, but Pleskun's story—he works by day salvaging scrap metal—allows for a gritty but nuanced commentary on the current state of the American Dream.

Levy never sentimentalizes or patronizes his subject. He focuses as much on Pleskun's relationships with his girlfriend and family as his stunts, as well as the humiliations he suffers on the road to fame. (The promoters of a Florida appearance refuse to procure the right 10,000-pound truck for him to lift and then short him $500.) When things go awry, Pleskun clams up, or his voice drops and a flurry of f-bombs fly from his lips. But he never becomes violent or loses faith—even after he's forced to move back to his childhood home in South Brunswick, New Jersey, and his brother fires up a crack pipe in welcome.

See my review in its full TOC glory
here
.
What I don't say in the review is that many of Pleskun's more famous contemporaries are tricksters and fakers, but he actually does the stunts (and he can actually do most of their faked ones with one hand tied behind his back).
To me, this film is about going beyond conditioned existence and living up to one's potential despite innumerable roadblocks; no matter how bad it gets, Pleskun pulls himself off the floor and keeps working towards his goal (sounds like yoga, no?). I also like that the director clearly has a relationship with his subject and never patronizes him (in interviews, Levy is humble - like his subject - and never call Pleskun a "character." Plus he moved hell and high water and mortgaged his future to get the film made). I also saw a lot of myself in him.
It's playing through Thursday at
Facets
. Levy will do a Q&A after the 7 p.m. screening on Tuesday, February 1.
Read more about the film
here
.