THURSDAY QUOTE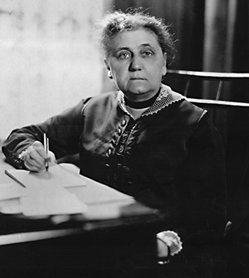 "Private beneficence is totally inadequate to deal with the vast numbers of the city's disinherited."
-
Jane Addams
, America's "Mother of Social Service"
The Jane Addams Hull House Association is closing in March, after 123 years of serving the poor. Hull House founded in 1889 by Addams, a pioneering Chicago reformer and
karma yogi
who opened settlement houses throughout the city to help immigrants and the poor adjust to life in America at the turn of the 20th century. At its peak, Hull House served more than 9,000 people a week, offering medical help, an art gallery, citizenship classes, a gardening club and a gym with sports programs.
Addams was also a leader in women's suffrage, and the first American woman to win the Nobel Peace Prize. She and her associates influenced policy on public health and education, fair labor practices and immigrants' rights. She also was an antiwar activist and fought against child labor.
Hull House is closing due to lack of fundraising and an increase in demand for service; it currently serves some 60,000 people a year though more than 50 programs at over 40 sites throughout the metropolitan Chicago area.
Why one of
the city's billionaires
(Sam Zell? Oprah, [why did you have to leave]? Pritzkers? Ty Warner? Kevin Griffin? Bill Wrigley? Eric Lefkofsky?) doesn't step in and bail out this historic organization just boggles the mind.
BONUS QUOTES FROM JANE ADDAMS:
"Our doubts are traitors and make us lose the good we often might win, by fearing to attempt."
"For ten years I have lived in a neighborhood which is by no means criminal, and yet during last October and November we were startled by seven murders within a radius of ten blocks. A little investigation of details and motives, the accident of a personal acquaintance with two of the criminals, made it not in the least difficult to trace the murders back to the influence of war. Simple people who read of carnage and bloodshed easily receive its suggestions. Habits of self-control which have been but slowly and imperfectly acquired quickly break down under the stress."
"Action indeed is the sole medium of expression for ethics."
"We have learned to say that the good must be extended to all of society before it can be held secure by any one person or class; but we have not yet learned to add to that statement, that unless all [people] and all classes contribute to a good, we cannot even be sure that it is worth having."
and a personal favorite:
"The essence of immorality is the tendency to make an exception of myself."
Read Jane Addams' New York Times obituary
here
.
Click
here
to read a Jane Addams poem by Kevin Coval.