GERMANY YEAR 2008, PT. I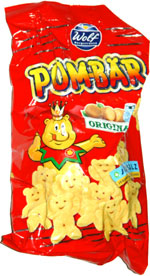 Now that the car is running (without help from the mechanic!) and I'm back online and nearly unpacked it's time to revisit the trip to Germany.
This is the packaging for
Pom-Bärs
, the salty bear-shaped potato chips that were such a big hit at the first grader party - and with my friend Blet's kids here in the states. Their website is worth a visit.
This is downtown Erlangen.
Their McDonald's is better than our McDonald's. (Their beer, bread, health care system and dairy products are also better....At the bakery they had pretzels decorated with pumpkin seeds and a local delicacy called frankenkorn. This part of Bavaria is known as Franken).
The lively lads, hopped up on Happy Meals.
Oscar-the-dog also moves quickly and is difficult to capture in a photo. This is during one of his walks in the woods behind my friends' flat. Oscar has his own E.U. passport, by the way.
One day Bob came home early to show me the beer store. It's wall-to-wall beer, from ceiling to floor (it's called Frank's). Too bad I don't care for beer - although I didn't mind the 50-50 combo of beer and Sprite that Vicki was drinking one night.
Later we drove out to the
Franken
countryside and visited some ancient villages.
These cabbages are bigger than your head.
This is a schnapps shop (try saying that three times fast). No one is ever inside. You have to ring the buzzer, and after some time a woman comes from her house on the other side of the
platz
and opens the place for business. She does not seem to be perturbed by the interruption.
Find the Jesus and win a prize. This is the village where every year they light fires in the hills and everyone goes to see them. I forget the reason for it. I'll have to ask Vicki-pedia.